A-Board Wood 55x85 with Chalkboard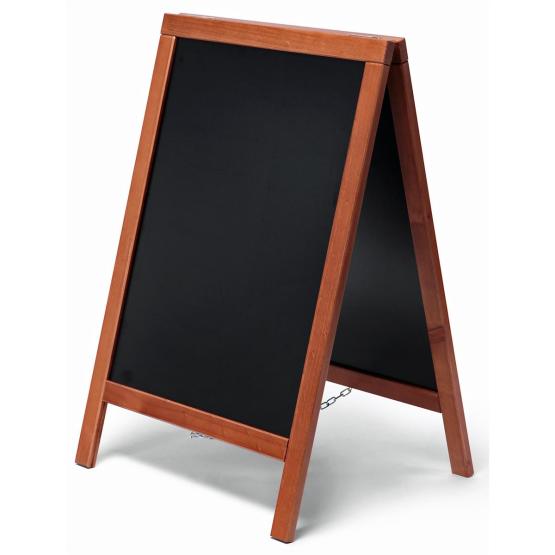 starting from
77,23 €
53,43 €
(Net:

44,90 €

)
including VAT., (Versandgruppe C)
Available now! (26 In stock)
Shipping weight: 5,00 Kg
Product weight: 3,75 Kg
---
The new naturalness in the display area - wooden A-Boards. In the cheapest variant with stained and matt lacquered wooden frames, this series nevertheless offers everything you need for everyday advertising. The chalk surfaces can be easily described and wiped off with chalk pens and are therefore suitable for advertising frequently changing offers, as they occur especially in the gastronomy sector.
In addition to the high-quality workmanship, the pavement display stands are impressive due to their compact dimensions of approx. 55 x 85 cm and the easily transportable weight of only 5 kg. You don't have a problem with that when you put it in and put it out every day. Clearly, these advertising stands can also be labelled from both sides. Especially those who are looking for a different look will find the right product in these models made of wood. Whether in the beer garden, in front of the ice coffee, restaurant or hotel lobby, these displays stand out clearly from the usual aluminium or steel A-Boards.
Due to the type of construction, they should only be used indoors or in protected outdoor areas, depending on the weather.
Ratings
A-Board Wood 55x85 with Chalkboard
5 Stars

0

4 Stars

0

3 Stars

0

2 Stars

0

1 Star

0
A review of the assessments has taken place as follows:

Customers receive a link to rate the products. This is an individualized link that only consumers who have actually purchased the goods or services from us receive.
We check reviews on our products before they are published. Each review is individually checked to see if it was made by a consumer who actually purchased the goods or services from us. An activation takes place only after 24 h at the earliest.